Why ReadingKEY?
Immediately after trying ReadingKEY, you'll observe three features that make ReadingKEY a superior choice for your reading improvement program:

1. More Progress in Less Time
The ReadingKEY Program makes the learning process far more efficient, thereby resulting in more progress in less time. Students typically advance 1 year in reading ability in just two to three months with 20-30 minute instruction 4-5 days a week. This increased learning ability by your student can be seen in just 10 minutes and the true power of the program can be seen in astounding retention of the previous days vocabulary after 24 hours. This improved learning rate is easily seen by the student (and teacher), resulting in higher self-esteem, confidence, willingness to work, and more importantly, letting everyone see that important goals are now attainable..

2. Very Easy to Use
ReadingKEY makes your job easier as preparation time is dramatically reduced. We've done all the work for you and laid out materials in an easy to use sequential format. Just PRINT several vocabulary lists - tape them along a wall - and follow the four memorization steps at the top of each page. Move onto the next list only when your student can say the 7 words in under four seconds. If you complete two lists per day you are advancing your student two years in reading ability in one years time. If you complete 3 lists per day you are then advancing your student 3 years in one years time - etc. Classrooms that maintain steady progress of one list per day using the "Classroom Reading Wall Program" will insure their students are learning precisely what they should be learning for their grade. To read testimonials from schools that have used ReadingKEY - click here.
3. A Reading Program that Just Makes Sense
Students learn words according to their statistical frequency of use (most-common to least-common) as found in popular grade level textbooks including Literature, Geography, Social Studies, Science, and even Math textbooks. The ReadingKEY Program introduces approximately 700-800 new reading words for each Grade (Grade 1 introduces 340 words). The vocabulary words have been sub-divided into vowel sound categories of about 7 words per list (this strategy alone contributes greatly to student progress). The decoding techniques your student will learn using ReadingKEY also teaches them how to "figure-out" words they don't know and greatly improves spelling skills.
Reading Programs Must Incorporate Research Findings from No Child Left Behind
We are firm believers in the research conclusions from
No Child Left Behind. No Child Left Behind is a U.S. Government project that funded research at college universities from Florida to California to find out which methods work better for teaching children how to read. After decades of work, No Child Left Behind concluded that vocabulary and fluency (also called "word recognition") are the first critical steps toward achieving maximum reading progress and maximum understanding of reading material (also called comprehension). In other words, students must first be able to read the words in sentences and paragraphs both correctly and easily - before they can be expected to understand the written material. It is hard to argue with this logic, but unfortunately, many reading programs still do not insure that vocabulary and fluency are attained before engaging in elaborate comprehension exercises.
Knowing What to Teach
If it is agreed upon that No Child Left Behind is correct in their conclusions that vocabulary and fluency must first be achieved for successful reading to follow, we then need to know which vocabulary words should be taught and in what order.
Analysis of Popular Academic Textbooks
ReadingKEY has completed extensive word analysis of grade level textbooks used in school districts nation-wide to identify the precise reading words students must know for their grade level. After following student performance for nearly 10 years, results show when students know these grade level reading words - they typically score in the top 10% on any standardized reading test. ReadingKEY teaches vocabulary words according to their priority (from most-common to least-common) in small groups of about 7 words per list. Each list is also organized along vowel sound categories which further enhances the learning rate for students. Each grade level list contains approximately 700 words (Grade 1 contains only 340 words). We use a proven step-by-step process that is not only effective, but highly motivational for the students and very, very easy to use for parents and teachers.
Two Programs Included:
One for the Classroom -
One for Private "One-on-One" Instruction
Whether you teach reading to a classroom of students or to one student at a time in a private setting, ReadingKEY has the perfect materials for you. After reading this introduction, please try our free materials at the FREE TRIAL link above. We have a Classroom Reading Wall Program for school teachers that will insure all students are being taught precisely what they should be learning for their grade level. Our Remedial Program (called the Student Reading Wall Program) is designed for quickly pulling-up students who are reading one, two, three or more years below their current grade level. Typical results seen are 1 year advancement in reading test scores in 2-3 months with three or four 30 minute lessons weekly.
What Makes a Better Reading Program?
A better reading program is one that enables students to make more progress in less time. The efficiency of any reading instruction process will determine how far your student(s) advance over the year, as well as how they will perform on your state's important end-of-year testing. A higher reading level also means superior comprehension when reading textbooks in Geography, History, Science and even Math. You'll be pleasantly surprised at how easy ReadingKEY is to use. Many schools use ReadingKEY alongside their current reading program resulting in greatly improved effectiveness.
Powerful Help for Below Grade Level Students
If you are working with a "below grade level student," it is essential for you bring their reading level up to par early in the game. Every year that passes that this is not done, your student will fall further and further and further behind, resulting in increased loss of interest in school, poor self-esteem and increased risk for behavioral issues. You can stop and reverse this downward spiral quickly with ReadingKEY. Just print our free Student Reading Wall Lists beginning with the lists that are 6-12 months earlier than your student's current reading level. Tape the lists along any wall about 3 feet off the floor side by side (as in the picture above). Just follow the steps at the top of each page and watch progress like you've never seen before. Our special memorization techniques really do work! Even students with moderate learning difficulties typically advance one year in reading level in just two or three months with only 15-20 minutes of instruction 3 or 4 days a week !!!
When to teach word reading (saying the words)
When to teach word meaning (definitions)
We've boasted quite a bit about the efficiency of ReadingKEY in comparison to other methods. Part of this improved efficiency is knowing when to teach word reading and when to teach word meaning (definitions). As an example, for a student to reach a reading level of high 3rd Grade, beginning 4th, he or she needs to know the 2000 "most-common" words found in textbooks for Grade 1, Grade 2 and Grade 3. They must be able to say these 2000 words at a rate of about 1/2 to 3/4 second per word. It is important to know that English speaking students already know the meaning of these words as these are what we call the "common conversational words" used in their everyday communication. When this 1/2 - 3/4 second goal is achieved for these 2000 vocabulary words - reading comprehension improves dramatically! If your student is currently using one of the many reading programs that practice elaborate comprehension exercises, you are achieving only limited progress if the student cannot first read the words fluently. In other words, vocabulary and fluency first and comprehension will automatically follow. If you are teaching the other way around (comprehension before fluency), you are wasting valuable time and dramatically reducing the efficiency of the learning-to-read process. Many school districts now require their reading programs to be "researched based." This is intended to insure that schools purchase reading programs that incorporate vocabulary and fluency as part of their curriculum (as recommended by No Child Left Behind Research). Research-based does not mean that a reading company has conducted its own research.
Vocabulary Building Worksheets that Effectively Teach Word Meaning and Proper Usage
Vocabulary words taught in Grades 4, 5 and 6 require a different strategy to be successful. Here, we not only insure the student can read the words fluently, but also teach proper word meaning through various exercises in the corresponding Vocabulary Building Worksheets. These exercises do an excellent job in getting those difficult definitions memorized.
ReadingKey's 3 Main Advantages
over other Reading Programs
1. Faster Progress: Your student's reading ability will improve much faster and this new rate of progress can be seen immediately.

2. Ease of Implementation - Very easy to use - No need to master complicated learning techniques. Just follow the 4 memorization steps in our Fluency Builder Lists or the 10 Steps in our Classroom Program for unprecedented progress! We also have demonstration videos so you can see both programs in action.

3. Total Organization: All lessons are laid out for you in sequential order from Grade 1 through Grade 6. Vocabulary words are organized from "most-common" to "least-common" - giving you the perfect order for instruction throughout the year. Organization of the words into lists of common vowel sound and reading rule categories further increases the efficiency of the learning process as well as greatly improving spelling skills.

4. Confidence: You'll always know an accurate reading level for your student with ReadingKEY. Each lesson is marked with the Grade and Week it is normally taught in school. You'll observe progress after just 10 minutes and see nearly 100% retention when testing your student the following morning. This permanent retention after 24 hours is solid proof that ReadingKEY techniques really are different and immensely effective!

Over 7000 schools and parents have purchased the ReadingKey Vocabulary Program since its introduction in 1999. See our testimonials here - If you are not yet a ReadingKey member, and would like to try this highly effective and easy to use reading program, please click the "FREE TRIAL" link at the top of the page. We also have a quick test at the top of the Free Trial page to determine your student's approximate reading level or you can use our new 5 minute online reading test accessible in the FREE TRIAL section.

Watch the ReadingKEY Video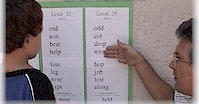 Click the picture at left to watch ReadingKey developer Richard Pressinger use the "Stop at the Vowel Sound" technique with the FLUENCY BUILDER LISTS for rapidly advancing the student's reading ability. These Fluency Builder Lists are the muscle behind ReadingKEY and very easy to use. Use the program for 15 minutes daily to achieve tremendous progress - here's all you do:
| | |
| --- | --- |
| 1. | Take our 5 minute online reading test to determine where to start. |
| 2. | Download and print the lists recommended from the test. |
| 3. | Tape the lists along a wall 3 feet off the floor side by side |
| 4. | Pull up two chairs and follow the four simple directions at the top of each list and watch your student progress at a dramatically faster pace! |
Save Money and Time
No reason to spend hundreds or thousands of dollars on reading programs or tutoring services that are less effective. ReadingKEY can be purchased for $89.95 on CD with 1 year password access - $49.95 for 6 month password access and $7.95 for a monthly membership. We also offer a School Site License at greatly reduced prices giving all teachers access to all materials for all grades K through 6.
30 Day Guarantee
Use ReadingKEY with confidence. We know that choosing the right reading program can be an overwhelming task so we provide you with a full 30 day money-back guarantee. If you are not satisfied for any reason, just call for a full refund during the 30 day period. We also invite you to view ReadignKEY testimonials from teachers, parents, and school administrators - please see our Testimonial Page.
Order Information
More information on purchase options can be seen from our main Order Page
QUESTIONS or COMMENTS?
Call us Toll Free at 1-888-716-9521
or CLICK HERE TO SEND us an EMAIL